2023 iRead Summer Reading Program Theme:
Find Your Voice!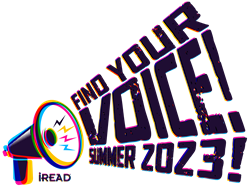 You can pick up your reading log along with a good book starting May 22, 2023.
There will be treasure box rewards for reaching your reading goals.
Come back to this page to find our scheduled parties, activities, and club meetings!
Why Read Outside of School?
Helps kids get ahead in reading

Improves comprehension

Stimulates imagination

Improves memory

Encourages writing

Makes kids smarter and cooler
Happy reading!